Thanks so much for considering me for a workshop or program with your group. Below is a list of my workshops and art talks. Contact me for availability and rates, with questions or requests and/or to develop a program that will meet your group's needs. Sharing the creative spirit and planting seeds of inspiration is a real joy for me.
Art Workshops
All workshops are process-oriented with a fun and spirited "what if?" approach. Participants are encouraged to step out of their box, play, experiment and see their creativity from a new view.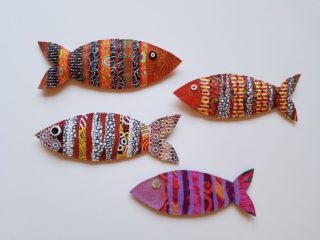 Layering is one of the greatest skills that an artist can have to build visual appeal, rhythm, texture, depth, energy, and movement in their art.
In this workshop, participants will be introduced to, and practice, many textural layering techniques using a variety of fabrics and papers – pieces, scraps and trim -  to create a "new fabric".  This "new fabric" can become a stand-alone piece or cut into shapes and become part of other art pieces.
While this is serious art training, I call it a "play day".  Participants will be immersed in the study of layering and be amazed at the textures each can create.  We will work, play and experiment with creating the fabric substrate and adding deli papers, security envelopes, various recycled paper types, acrylic paints, matte medium, fabric scraps, fabric trims, and more.  Participants will transform all these objects into a new, layered fabric that exhibits distinct, yet subtle visual qualities.
Skill Level: This workshop is for any level of competency.
Supply List will be provided.
Duration: Full day.

This workshop can be structured for a variety of lengths between 6-8 hours, with time for lunch. Longer workshop times allow for more creative possibilities in the variety of lessons taught throughout the day.  Ask me about a post-workshop cocktail event.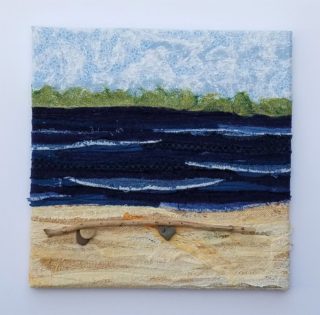 While many use paint or watercolors to create a landscape, this workshop gives you the tools to figuratively paint with fibers using a needle felting machine.  This is not your typical needle felting class with wool!  You will discover the unique ability to blend a variety of fibers with this machine while being introduced to many tricks on layering with this process.
I will also share with you how embroidery stitches can enhance your fiber-scape, as well as many ways to add nature's elements to your pieces to bring them alive and create added texture. A variety of mounting techniques for your pieces will be demonstrated for you to consider once your art piece is completed.
Besides all the tools and techniques that are shared, participants will create the beginnings of a Fiber-scape to take home with them.
Since this is a hands-on play and experiment class, each participant will need to bring their own needle felting machine and know how to use and maintain it.
To add more value to the class, one or two sewing machines (provided by the organizers of the workshop) would be helpful for participants to add additional layering with embellishing stitches.
Skill Level: This workshop is for any level of competency.
Supply List will be provided.
Duration: Full day.

This workshop typically runs for about 8 hours, with time for lunch. Ask me about a post-workshop cocktail event.
Personal Growth Workshops (2 to choose from)
All workshops are process-oriented with a fun and spirited "what if?" approach. Participants are encouraged to step out of their box, play, experiment and see their creativity from a new view.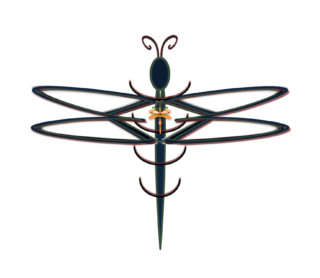 This is a remarkable full day experience in which participants come away with a re-discovered sense of peace and tranquility in their lives.
In a world where stress, drama and anxiety are unavoidable elements of modern life, participants will discover and practice a variety of tools and techniques to transform their lives from "overwhelmed" to "serene".
This workshop draws on lessons from the mystical legend of the dragonfly in Finding Your Gentle Spirit.
Every canon of faith recognizes that we all possess an inner Spirit – our personal connection to God … or a part of God living within us.  This Spirit forms our soul, our chi (our life-force), and our highest levels of consciousness.  Our Spirit lives and thrives within us. It flows around us, and travels through us. Our Spirit acts harmoniously to connect ours with the Spirits of others to bring about strength and healing.
Every child is born with this Spirit.  At birth, our Spirit is quite gentle.  It's this gentle Spirit that allows a child to see the world for all its wonder, its beauty, and its fascination.  Their Spirit is full of love, peace, and goodness. 
As we age, the child-like gentleness of our Spirit fades away. Every time we experience anger, anguish, pain, frustration and defeat, we lose a tender fragment of our precious gentle Spirit.  It leaves us behind as it drifts away with the wind – to join other lost fragments in the air.  If you listen, you can hear them in the rustle of the leaves, the swaying of the grass, and puffs of wind that carry them away – leaving us with less gentleness … and a Spirit wanting and weak.
Thankfully, we are blessed.  For even before God created man and His Spirit, He created dragonflies.  He created them to recapture Spirit fragments from the air.
Like "dream catchers" that filter and "catch" dreams as they pass through their webbing – a dragonfly's wings "catch" the lost fragments of gentle Spirits as they flutter lightly through the air.   God has consigned these peaceful creatures to deliver gentleness back to deserving souls who unknowingly lost it.
When a dragonfly lands on you, you'll notice a feeling of goodness and peace as the gentle nature is returned to your Spirit.  Let the dragonfly sit as long as he wants, for he brings back the gift that we all seek to recapture.
Past participants have found this workshop to be inspirational in transforming their lives from the mundane and stressed … to a life that opens the door to thankfulness, forgiveness and a confidence in fully pursuing their passions.
You will enter with the burdens of your life on your shoulders … and leave with the tools and techniques to brush them off like flakes of dandruff.
This workshop will transform your life.
Time: Full Day
Ask me about a post-workshop cocktail event.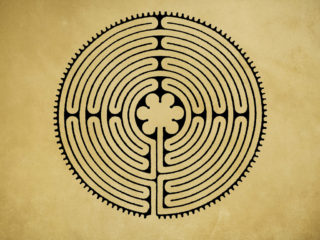 This workshop is geared to the person …
Who cannot turn off their mind … Like Polly!
Who feels like they have failed at meditation in the past.
Who is searching for new creative ways to meditate.
The health benefits of meditation are indisputable. People who meditate increase their ability to fight disease, report a greater level of well-being – both physically and emotionally, and increase their levels of focus and concentration.
Clinically, there are close to 100 scientific benefits to engaging in meditation.
Discover how you can connect with your gentle spirit and achieve a healthier body, super mind, and emotional well-being through a variety of meditation techniques … one of which will certainly suit you.
Time: Half Day (Full Day option available if a Labyrinth is nearby or a portable one can be delivered and set up at your location)
Ask me about a post-workshop cocktail event.
Polly is passionate about Forest Bathing.  Much of her art is inspired by her time forest bathing.  Many of her photos on social media are from her times forest bathing on trips and even in her own backyard.
What is Forest Bathing? In 1982, the Japanese Ministry of Agriculture, Forestry, and Fisheries created the term "shinrin-yoku," which translates to "forest bathing" or "absorbing the forest atmosphere." — no actual bathing required.
Forest bathing and forest therapy broadly means taking in, in all of one's senses, the forest atmosphere. Not simply a walk in the woods, it is the conscious and contemplative practice of being immersed in the sights, sounds and smells of the forest. Forest bathing quiets the mind and spirit.
This workshop is an experiential workshop.
Come learn, experience, and be transformed by forest bathing.  You will learn how to forest bath outside.  And surprisingly, you will learn how to forest bath inside when you are unable to go outside.
Since we will be going outside, come dressed for the weather.
Time: 2 hours
Presentations are 45 minutes to 1 hour in length depending on your needs.  Contact me for more information on these presentations and to discuss other possible presentations.
Secrets Revealed Trunk Show & Talk – Polly will captivate the audience with her trunk show of pieces of her artwork that are in progress and completed. Revealing "how she did it" will amaze and open eyes to new ways of doing art. She loves to encourage the audience to go beyond their comfort level and to look at themselves as artists.
A testimonial about Polly's Trunk Show and Talk: "Any group seeking artistic inspiration and a deeper understanding of fabric art techniques should book a presentation with Polly. Her passion and expertise are evident in every aspect of her work." "The techniques" she showcases "were unusual and opened up a world of new possibilities for all of us in attendance." Polly has "a unique ability to connect with fellow artists." – Lori F, Art Quilts St Louis, St. Louis, MO
From Inspiration to Completion - Polly spends a lot of time in nature photographing inspirations for her art. Be amazed at all the different ways she utilizes to bring her inspirations to life in her art.
Forest Bathing: What is it? How do you do it? Do you have to go outside? – First of all, there is no bathing required in Forest Bathing. Polly will teach how to calm one's spirit by immersing oneself in the sights, sounds, smells, and textures of nature. You will be amazed at some of the things Polly focuses on in nature. She will also teach you how to forest bath with her art.
Rethinking Meditation – Does the word "Meditation" scare you? Do you feel like a failure at meditation since you are unable to sit still for 20 minutes? Polly will change your thoughts on meditation with ways to meditate that may surprise you. She will show you how to easily incorporate meditation into your life.
Follow your Passion – Polly shares her journey from Quilter to Art Business and the many lessons learned along the way.