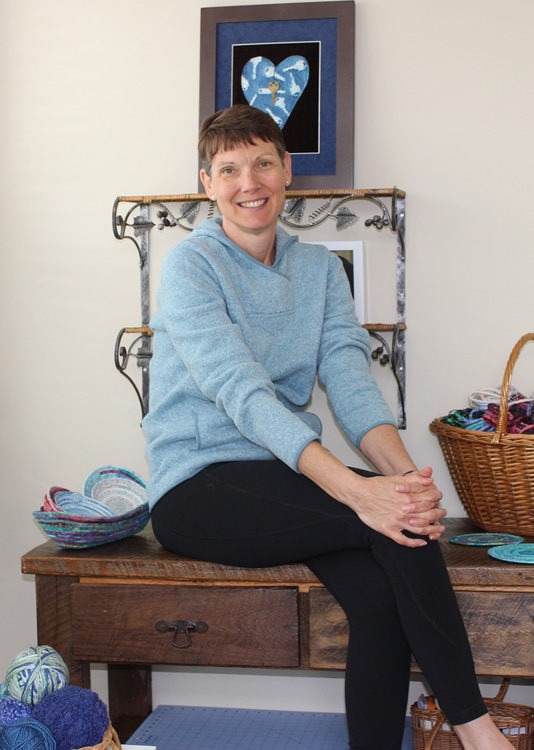 I am an artist,  a writer, a teacher and a speaker.
Some patrons of my art have called me a "fiber therapist" (and I am not talking about fruits and vegetables). I specialize in blending varied fibers, papers, and discovered objects into works of art, that for many, serve as a prescription for a stressed and harried world.
It all started with a passion for quilting. Over time, it has transformed into a sort of magic that utilizes a wide variety of objects and elements to draw the viewer in, connect with the inner beauty of their being, and to evoke a feeling of serenity and tranquility.
I have discovered the calming influence of touching fabric … the textures, the symmetry of color, and the therapeutic influence on the psyche and the soul.
I exhibit my art in select shows and galleries throughout the Midwest.
The doctrine of Reuse, Repurpose, and Recycle is important to me. I incorporate upcycled denim, clothing, laces & upholstery, recycled papers, quilting scraps and a variety of discovered objects to create inspired art to adorn any space.
Fabric is the pathway to my creativity, and my favorite tools are my needle felting machine, my sewing machine, and matte medium.
I periodically escape into the uncontrolled world of fabric dying and alcohol inks. It opens a new world of creativity to express the freedom of "letting go".
I love exploring … whether a new route, a new technique, or a new artistic method – I find there are no mistakes … because a mistake in art or life creates new paths to follow, and opportunities to embrace.
I live in 3 states: Missouri, Illinois and Wisconsin.  Some may say that the states I live in are really contemplation, imagination, and disarray.
My names are many, so I mostly prefer just being Polly.
Rocks, driftwood, birch bark, and dragonflies give me pause to go "aaaaah".
I love frozen and liquid water and all the fun that can be had in/on them!
With the support of my dear husband Bob, my two grown sons and countless friends, I am able to be the artist that I am … doing all the wonderful and artistic things that I do.
Sharing my art with others brings me immense joy. I love planting seeds for other's creative spirits to bloom.
When I am creating my art, I connect with my gentle spirit … some may call it creative meditation or simply being in the zone … but to those who can see and feel the aura of energy around me, know that it is my gentle spirit.
I love to get out of my studio and teach others … in workshops, seminars and short presentations … so that others can achieve the same good feelings that come from finding your gentle spirit.